Awildan's Newest Offering: Spiced Rum
I'm very excited to introduce our newest release, Spiced Rum! Awildan's version of this popular style of spirit is subtly spiced with vanilla beans, cinnamon, allspice berries, cloves, mace, green peppercorns, ginger root, and lemon peel. We also soaked specially toasted pieces of Mongolian oak in the spirit prior to bottling. This contributes a touch of natural sweetness, as well as complimentary spicy notes from the wood. The main objective when designing the flavor profile for this spirit was balance. I'm very pleased with the result. On the nose, there is vanilla and cinnamon, with clove and nutmeg peaking through. The first sip leads with cinnamon and a creamy mouthfeel, giving way to baking spice and a finish reminiscent of a molasses cookie.
The molasses tasting note is appropriate, given the fact Awildan's rum is fermented blackstrap molasses. Rum, by definition, is produced from sugar cane products. Blackstrap molasses is what's left after it is no longer economical to extract sugar from the pressed sugarcane juice. The sugar extraction process is carried out in the presence of heat, resulting in a lot of flavor development. We took the flavor-packed blackstrap, diluted it with water so the yeast could do their thing, and added a bit of pure cane sugar to ensure a final ABV of at least 8% after fermentation was complete. The rum was 2.5x distilled through our copper pot still to make an excellent base spirit.
Some of that base rum is happily maturing in a mix of ex-bourbon and ex-rye whiskey barrels, and we are all looking forward to that finished rum (as well as finishing some Awildan Single Malt Whiskey in those rum casks!). The rest of the base rum was redistilled in the presence of our spice blend to produce the Spiced Rum that is now available at Awildan. I sincerely hope you enjoy this release, especially with family and friends this upcoming holiday season. Please stay tuned for cocktail recipes, and information regarding our beer collaboration with Karben4 Brewing celebrating the Spiced Rum release. The beer is a nod to the first Christmas beer I got to help brew at Karben4, back in 2013, and utilizes a few ingredients used in the spiced rum. Enjoy!
Cheers,
Jeff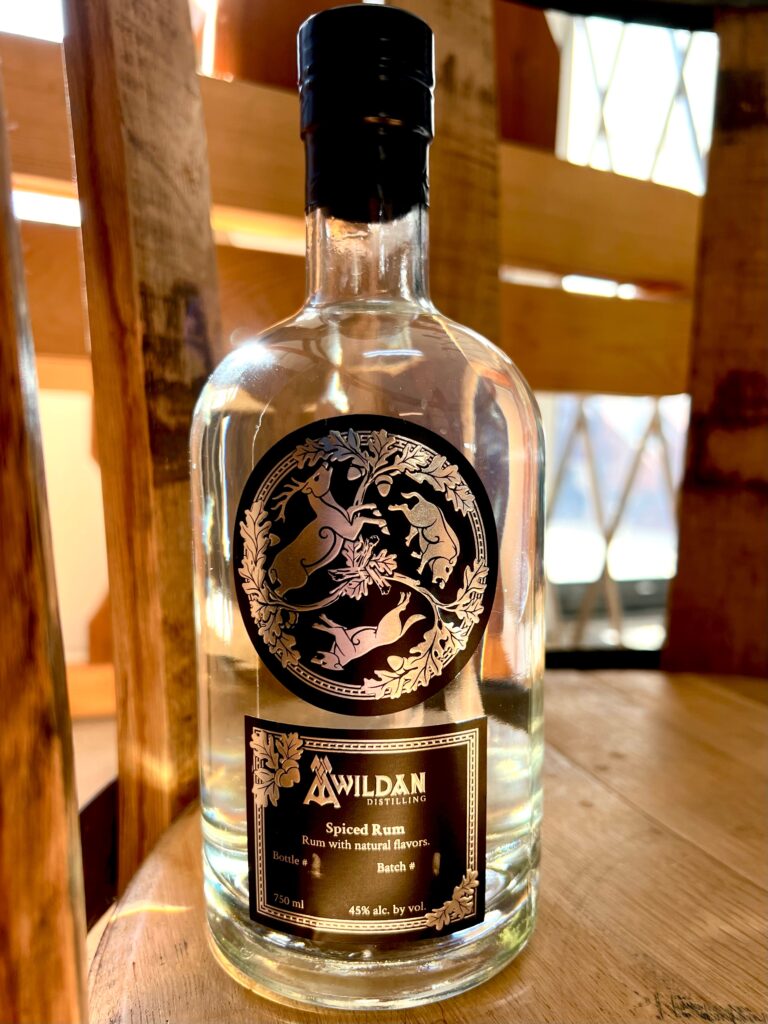 Spiced Rum (Reservation)
Spirit made from blackstrap molasses and cane sugar, distilled with vanilla beans, cinnamon, mace, cloves, allspice berries, green peppercorns, ginger root, and lemon peel.