Awildan's first whiskey is here!
Progress Report is Awildan Distilling's first whiskey release. This whiskey is made from 100% malted barley, aged more than 18 months in first fill ex-bourbon casks, and bottled at cask strength. This whiskey is being released on Saturday, November 18th starting at noon. A limited number of bottles are available for purchase first come, first serve. Don't miss your chance to own a piece of Awildan history!
More than 5 years ago I began dreaming about distilling my own Scottish style single malt whiskey. I had years of brewing experience with malted barley, and wanted to know what kinds of spirits I could create with the fermentation science and production skills I had acquired by working for a craft brewery. Scottish style single malt whiskey was so appealing to me because it is made exclusively from malted barley, and felt like an extension of craft brewing. It is also produced at only one distillery using copper pot stills. Contrasted with a whiskey like bourbon, single malt whiskey is a relatively narrow definition. However, there is such an amazing variety of single malt whiskies in the world, I knew there would be infinite ways to experiment and make it my own.
Flash forward to October 2021–the spirits made from malted barley started to flow. The first barrels of Awildan whiskey were filled in January of 2022. The Progress Report was originally going to be a single barrel release from a quarter cask filled in April of 2022. The idea was to provide a snap shot of where our whiskies were in the maturation process, and get people excited about the future releases. That cask was a mix of spirit made from Golden Promise malted barley and a variety of crystal malts. That single quarter cask tasted good on its own, but when blended with a couple of the earlier filled casks, the spirit really came alive in the glass.
This Progress Report whiskey is the result of a three barrel blend. Some of that blend was put back in casks for future releases, and the rest was bottled for your enjoyment. I get aromas of vanilla, baking spice, green apple, and cherry. The flavor is all about the malted barley, with caramel, lightly toasted fresh baked bread, and an experience mid-palate that reminds me of being in the mill room while it's breaking apart the malt for brewing. The finish has those barrel flavors of vanilla, oak tannin, and definitely invites you back for another sip. This whiskey is bottled at cask strength, and allows you, the consumer, to decide how much, if any, water you like to add. It's unfiltered and ready to enjoy. I want to say a big thank you to everyone who reserved a bottle of the Progress Report in the months leading up to this release, your support means a lot!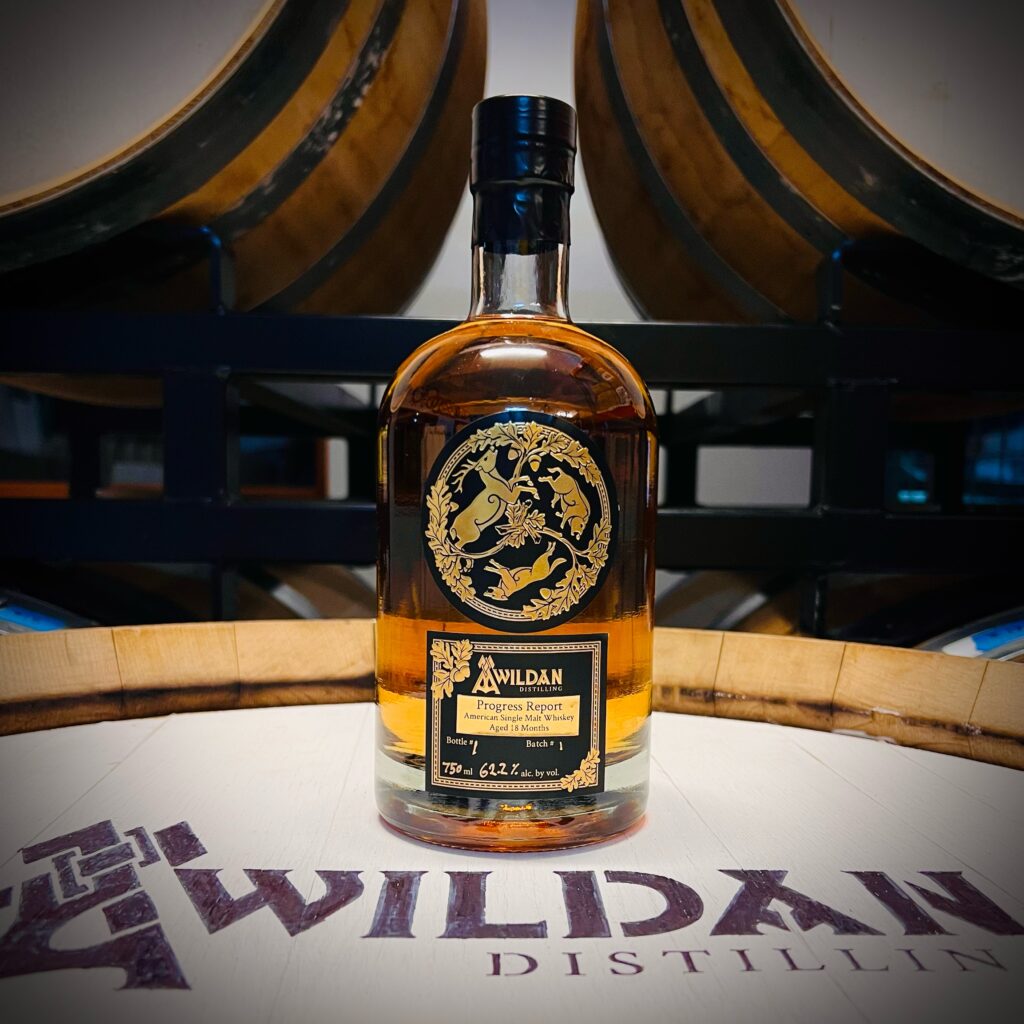 Progress Report Single Malt Whiskey (Reservation)
Spirit made from malted barley, and distilled in a traditional copper pot still. Aged more than 18 months in ex-bourbon casks.
It's $0 to reserve a bottle. Completing this form reserves your bottle(s) until the pick-up day you select during checkout. After you submit this form through checkout, simply pick-up and pay at the distillery in Sun Prairie, WI. $60 per bottle, 10% case discount on 6 or more bottles.